On-Campus Employment
• Institutional Pay – Regular employment that pays $7.50/hour.
• Scholarship – Second-year scholarship renewal requires service hours to the university (an average of 4 per week – 60 per semester)
Note: Most employers will NOT offer 20 hours per week. The general number is 4-10 hours. Additionally, we do not recommend that first-year students work 20 hours per week due to all of the other demands on their time.
Students should not rely on work to pay for tuition and living expenses.
Off-Campus Employment
This section describes the rules under which F-1 students may be employed off campus during their course of study in the United States. It does not cover the rules for Optional Practical Training before or after completion of studies or for Curricular Practical Training.
Need-Based Work Permit
Off-Campus Work Permission Based On Severe Economic Hardship
If you are experiencing severe economic hardship based on an unforeseen change in your financial circumstances, you may submit an application to the U.S. Citizenship and Immigration Service (USCIS) for permission to work off campus. You will be required to document the change in your financial situation and your economic need. Examples of changes in financial circumstances are tuition increases of 30 percent or more, loss of a sponsor, severe illness in the family, etc. Permission to work off-campus based on severe economic hardship allows you to work in any type of job.
Limits imposed on off-campus work are:
Students authorized for off-campus employment by the USCIS may not work more than 20 hours per week while school is in session. During vacations and breaks, students may work full-time if not enrolled in classes.
Remember you can only work a total of twenty hours per week while school is in session.  So, if you have a campus job for 10 hours per week, you may only work off campus for 10 hours. Scholarship service hours count toward this total as well.
Eligibility Requirements
You are eligible to apply for off-campus work permission based on severe economic hardship if you meet the following conditions:
You have been in F-1 status for a minimum of nine months
You are currently in legal status and carry a full course of study
You have made a good effort to find employment on campus
You are able to demonstrate unforeseen severe economic hardship
You are in good academic standing (Grade Point Average is at least 2.0)
Application Process
Application packets are available at the CIS Front Desk. The following documents are required for the application:
$380 check or money order made payable to 'DHS/USCIS'
2 Passport-style photos with your name and I-94 Number written on the back in pencil.  Must be different from your passport, visa, and any other work permit photo.  We recommend Walgreens.
Complete I-765 Form.  See below for sample and instructions.
Documentation of Need
Completed SEVIS Release Form.
All immigration documents.

Passport
Visa
I-94
All previous I-20s and/or DS-2019s
All Change of Immigration Status Approval Forms
All previous work permits
Final Steps
Wait for an email from the CIS regarding the processing of your application. Return to the CIS to sign your new I-20 and pick up your application for mailing. Within 30 days of mailing, the CIS should receive a receipt stating the average processing time and your file number. This information will be emailed to you. Finally, when the EAD (work permit card) is received, the CIS will contact you for pick up.
Curricular Practical Training
Curricular Practical Training (CPT) is a work permit option available to F-1 students when work experience is required for internship and/or academic credit. Curricular Practical Training is intended to give students relevant work experience in their field of study. Examples of Curricular Practical Training are internships and practicum. The most up-to-date details about CPT can be found here.
Optional Practical Training
Optional Practical Training (OPT) is the opportunity to apply knowledge gained in the classroom to a practical work experience off campus. The USCIS issues OPT for temporary employment directly related to your major area of study. The most up-to-date details about OPT can be found here.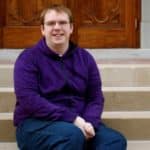 Truman is really the land of opportunity. If there is a project or idea that you want to pursue, all you have to do is reach out to students and faculty and the idea can become reality. I was able to collaborate on a variety of ventures from research projects, to starting new organizations, to finding internships, and even planned some travel experiences. Your imagination is the limit here!