Welcome to the Academic Success Mentoring Program for International Students
---
What is the Academic Success Mentoring Program (ASM)?
The ASM program is a peer-mentoring program sponsored by the Center for International Students (CIS) and specifically aimed at helping international students perform better academically. By meeting with a peer mentor one-on-one, students work on developing better study skills, overcoming test anxiety, managing their time more effectively, and more.
Who are the academic mentors? How can they help me?
ASMs are students who have learned how to be successful at Truman. Because they have been through the same challenges you have: struggling to balance school, work, and friendships; mustering up the courage to raise our hands in class; and preparing for a major test or paper. They are not tutors, but they can help you find ways to learn information better and find the resources that will help you become a better student.
How much time am I going to need to devote to this?
Not much! Each meeting with your mentor will last 20-30 minutes at most. You might find, however, that the way you manage your time changes drastically, in a good way.
Will others know about me doing this?
Only if you want them to. The ASM program is completely confidential, and personal information will never be discussed beyond you, your mentor, and evaluations with Melanee or Bri.
What do I need to do as a participant in the ASM program?
Attend the weekly meetings with your mentor (and give advance warning if you need to cancel), try to follow their advice, and give feedback so they can find how best to help you. The more you put into this relationship, the more you will get out of it.
To get involved, contact the CIS at iso01@truman.edu.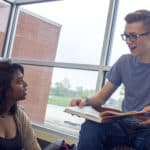 For me, Truman is "made" by the people I have met and the people who are found across school. In one aspect, this is found in the organizations across campus: Greek letters painting the pavements, LARP-ing coloring the Quad, political activism sculpting the sidewalks —Truman is diversity…I feel as though everyone has a purpose; a "niche" that every individual can fit into.