Conditional Admission Information
value in the nation among public colleges & universities (Consumers Digest 2015)
Conditional Admission Information for
International Students
---
The minimum TOEFL score for regular admission is 79 and the minimum IELTS score is 6.0. Academically qualified applicants who have not achieved the minimum TOEFL or IELTS score may be offered "Conditional Admission".  The following are options for "Conditional Admission":
Option 1: Retake the TOEFL or IELTS
Conditionally admitted students may retake the TOEFL or IELTS and submit their improved score to Truman.  Students applying for fall admission must submit new scores by June 1st. Students applying for spring admission must submit new scores by November 1st. Those who achieve a TOEFL of 79 or an IELTS of 6.0 may enroll as a full-time degree-seeking student at Truman.
Option 2: Pursue Intensive English Study on the Truman Campus
Conditionally admitted students may pursue Intensive English Studies* at The Language Company (TLC), located on the Truman campus. This requires a separate application to The Language Company.
Upon arrival at The Language Company (TLC), students will be given an English Placement Test to assess various aspects of their English proficiency.  The Language Company (TLC) offers 9 levels of Intensive English Study.  Students are placed in the appropriate level based on the outcome of their English Placement Test.
Full-time Intensive English Study
Students placing in TLC Levels 1 through 7 on the TLC English Placement Test will study Intensive English on a full-time basis.  Conditionally admitted students will be admitted to full-time enrollment at Truman after they successfully complete Level 9** at TLC.  If the student places in level 8 or 9, they may alternatively choose concurrent enrollment.
The Language Company offers 13 start dates each year, including two sessions that begin at the same time as the Truman semesters (August and January).  The Language Company requires a separate application process, which can be found at thelanguagecompany.com.   Students must apply to The Language Company before an I-20 form can be sent.
Important Notes:
* If you were awarded a Truman scholarship, please note that it will not be applied until you are enrolled for full-time study at Truman.  Scholarships do not apply to Intensive English Study or Concurrent Enrollment.
** The F-1 student visa allows for only "temporary absences from the university and/or the U.S. of no more than five months".  Students may find it necessary to complete additional TLC sessions (beyond Level 9) in order to limit the time between enrollment at TLC and full-time enrollment at Truman.  If additional TLC sessions are necessary, students will study Advanced Level English and must successfully complete these sessions to continue to full-time enrollment at Truman.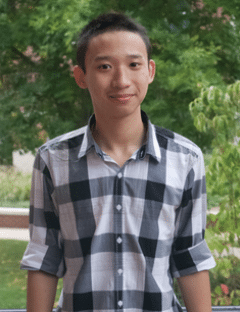 "The atmosphere at Truman is warm. People here are friendly and are willing to help you whenever you need it. Also, there are plenty of organizations available to help international students to make new friends, understand new cultures, and enjoy life in America."
– Anh Duc M., Mathematics & Economics, Vietnam