Conditional
value in the nation among public colleges & universities (Consumers Digest 2015)
Conditional Student Admission Requirements for International Students
---
After all of the following documents have been received, you will be sent an e-mail informing you that your admission file is complete. Your application will then be sent to the Admissions Committee to determine acceptance. This process may take up to four weeks.  Accepted students will be notified and mailed their acceptance packets.
You will receive an e-mail confirmation when we receive any of the following required documents:
1. Original or Certified Copies of Transcripts from High School (and any college or university you have attended)
Transcripts should list each subject studied with all grades, marks, or other verification that each individual course was completed. (Please note: original copies of transcripts cannot be returned to you. We strongly suggest sending certified copies instead.)

Official copies of graduation diplomas should also be provided.
2.  Certificate of Financial Support
Download the PDF file here.

To see an example of a completed form, click the image below.
Certificates must show at least $26,000/year.
Please note: Exchange students have to show proof of $7,000 if they intend to study at Truman for a semester, or $14,000 if they intend to study at Truman for a year.
3.  Original or Certified Copies of Bank Documents Indicating Sufficient Financial Support
Unless you are a U.S. citizen or permanent resident, you are required to submit satisfactory evidence of funds necessary to meet the expenses involved in your proposed program of study. Your application will not be considered until you show proof of sufficient funds.

Bank balance must show an equivalent of at least $26,000.

Truman State University may require further certification of finances or advance payment of tuition and fees from students whose funds originate in countries where severe currency restrictions exist.
Please note: Original copies of bank documents cannot be returned to you. We strongly suggest sending certified copies instead.
4.  Copy of Passport biographical information page
This can be scanned and emailed to intladmit@truman.edu or included with other documents that are sent in the mail.
---
Documents can be mailed to:
Center for International Students
Truman State University
Baldwin Hall 129
100 East Normal Avenue
Kirksville, MO 63501
USA
Please call or email us with any questions or concerns!
Office Hours: Monday-Friday 8:00 AM to 5:00 PM CST
Phone Number: (660) 785-4215
E-mail: intladmit@truman.edu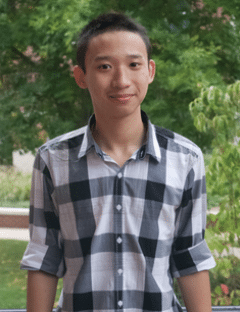 "The atmosphere at Truman is warm. People here are friendly and are willing to help you whenever you need it. Also, there are plenty of organizations available to help international students to make new friends, understand new cultures, and enjoy life in America."
– Anh Duc M., Mathematics & Economics, Vietnam