Orientation Spring 2015

---
This page contains the orientation schedule and pre-arrival information. Look at the links on the left for additional orientation information. For information about Fall 2015 Orientation, click here.
Pre-Arrival - The following slideshows will give you the information you need to prepare for your arrival in the United States. All new students should carefully read each powerpoint. The more you learn before you arrive, the easier it will be to be successful when you come!
All international students should arrive on campus before orientation. During orientation you will register for classes, eat good food, make new friends, and learn about the topics in the slideshows! See below for the tentative orientation schedule.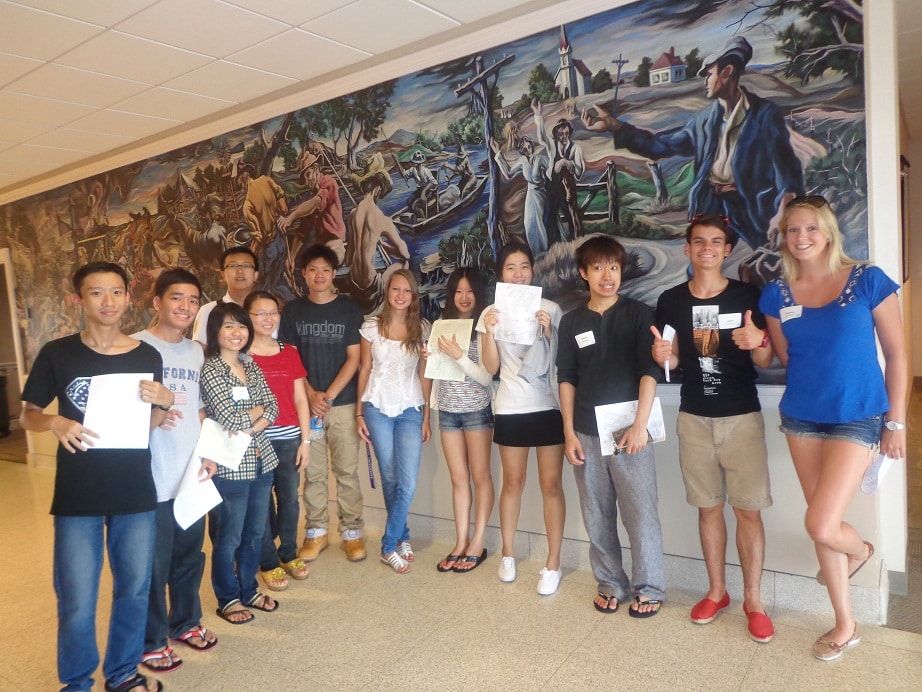 Truman State University ISAO
Tentative Spring 2015 International Student Welcome & Orientation Schedule
Attend All Activities!
Remember this schedule will probably change as we get closer to Orientation. You will get your final orientation schedule when you arrive at Truman. This schedule was last updated on December 3rd, 2014.
*CIL = Cultural Integration Leader, this is an American student who will be assigned to help you adjust to life in the U.S. in your first semester. You will meet this person when you arrive.
---
Spring 2015 International Student Welcome & Orientation Schedule
Please Attend All Activities - Activities in Bold Are Mandatory
Wednesday, January 7
New Student Arrival Day/Shuttle Day
Location
8:30 am
to
9:30 am
Light Breakfast Available
ISAO
12:00 pm
to
1:00 pm
Light Lunch Available
ISAO
6:30 pm
to
7:30 pm
Dinner at a local restaurant
Students, be sure to bring money with you if you plan on going on the Walmart trip
Meet CIL* in your residence hall, walk to meet other students, vehicles will be waiting to take people to the restaurant
7:30 pm
to
9:30 pm
Walmart Shopping Trip with CILs and Ambassadors
Leave directly from restaurant
Thursday, January 8
Orientation Day 1
8:15 am
to
8:45 am
Official Check-In & Breakfast
Bring Passport, Visa, I-20/DS-2019 and be sure to dress warmly!
Baptist Student Union
8:45 pm
to
12:00 pm
Orientation Session I
Baptist Student Union
12:00 pm
to
1:00 pm
Lunch
Baptist Student Union
1:00 pm
to
3:30 pm
Orientation Session II
Baptist Student Union
3:45 pm
to
5:45 pm
Walmart Shopping Trip with CILs and Ambassadors
Meet in the MO Hall Parking Lot
6:00 pm
to
7:30 pm
Dinner at a local restaurant
7:30 pm
Games & Tea at the International House
Spend some time getting to know other Truman students--American & international!

International House
Friday, January 9
Orientation Day 2
8:15 pm
to
8:45 pm
Breakfast & Official Check-In for Late Arrivals
Bring Passport, Visa, I-20 or DS-2019
Baptist Student Union
8:45 am
to
12:00 pm
Orientation Session III
Baptist Student Union
12:00 pm
to
1:00 pm
Lunch
Baptist Student Union
1:00 pm
to
4:00 pm
Orientation Session IV
Baptist Student Union
5:00 pm
to
6:30 pm
Exchange Student Reception
An opportunity for international exchange students to meet recently returned American study abroad students. Dinner provided!

6:30 pm
to
8:00 pm
Dinner (hosted by the BSU)
Baptist Student Union
Saturday, January 10
Orientation Day 3
9:00 am
to
10:15 pm
Light Breakfast Available
ISAO
9:00 am
to
11:00 am
Transfer Student Check-In
First Floor, Violette Hall
9:00 am
to
11:00 am
International Student Affairs Office Open
Stop by for advice on finding a campus job, connecting to the internet, getting a social security number, buying a phone, and more. Have a question? Ask it here!
ISAO
11:00 am
to
1:00 pm
Academic Success
Note: Meet some of the Academic Success Mentors!
BSU
1:00 pm
to
2:00 pm
Meet your advisor/Degree Works
1:10 pm
to
1:50 pm
Exchange Student Meeting
Mandatory for all exchange (J-1) students. Bring DS-2019 to meeting.
Baldwin Lounge
2:00 pm
to
3:00 pm
English Placement Testing
The English Placement Test is required for all full-time students. You must turn in your temporary access card at this time.
Violette Hall 1010
3:00 pm
to
3:30 pm
Scholarships, Jobs, Internships, and the Truman Portfolio
OR
3:00 pm
to
4:00 pm
Walmart Shopping Trip with the International House
OR
3:30 pm
to
4:00 pm
Scholarships, Jobs, Internships, and the Truman Portfolio
4:30 pm
to
5:30 pm
What I Wish They Had Told Me
Upperclass international students share tips for success at Truman
5:30 pm
to
7:30 pm
Dinner in American Homes
ISAO
Sunday, January 11
Orientation Day 4
10:15 am
to
12:15 pm
Brunch Available
Violette Hall, Second Floor
12:30 pm
to
1:30 pm
Lunch: Truman Experience Student Panel
Be sure to sign in with Ted Frushour. This will include both American and international students.
Violette Hall, Second Floor
1:30 pm
2:45 pm
Campus tour
Violette Hall, Second Floor
3:45 pm
to
4:30 pm
Mini Major Days
Meet professors in your department, enjoy snacks, and more!
Kirk Building Hallway
6:00 pm
All International Student Pizza Party
Come enjoy free pizza and meet the other Truman international students!
ISAO
Monday, January 12
First Day of Classes
12:00 pm
to
3:00 pm
Opening Accounts with U.S. Bank
12:00 pm
English Placement Test Results Available
1:00 pm
to
3:00 pm
TB Testing -- by appointment
Student Health Center
Tuesday, January 13
1:00 pm
to
3:00 pm
TB Testing -- by appointment
Student Health Center
Wednesday, January 14
8:00 am
to
12:00 pm
Opening Accounts with U.S. Bank
Monday, January 19
7:00 pm
to
8:00 pm
Extended Orientation Session 1
Student Union Building Activities Room
Friday, February 6
7:00 pm
to
8:00 pm
Extended Orientation Session 2
Student Union Building 3000
---