FAQ
value in the nation among public colleges & universities (Consumers Digest 2015)
Frequently Asked Questions by
New International Students
---
Don't see your question listed? Email the friendly staff of the Center for International Students with any questions or concerns about your enrollment process.
1. I have confirmed my acceptance to Truman State University. What happens next?
To get ready to come to Truman, you need to start submitting your enrollment documents! These are in your admission packet, on our website under "Newly Admitted Students" then "Online Enrollment Documents," and on Truview. Every time you submit an enrollment document, we will send you can email confirmation that we have received it (just like when you sent us admission documents). This is a list of all of the enrollment documents we need from you:
Study Plan Confirmation
Pre-Orientation Questionnaire (Only available on Truview, Graduate and Exchange students do not do this) OR Registration Worksheet (For exchange students only)
Math Placement Test (only available on Truview, Graduate and Exchange students do not do this)
Residence Hall Application (if you intend to live on campus)
Medical History Form
Proof of Immunization
Meningococcal Vaccination Form
Travel Plan Confirmation
Shuttle Reservation Form
Visa Approval Notice
2. Do I have to pay all the fees and tuition before I leave my country?
No. You can wait to pay in person with cash, credit, debit, or check during Orientation week or the first week of classes. All tuition and fees for the semester need to be paid in full by one week into the semester unless you sign up for the Truman Flexible Payment Plan (www.truman.edu/businessoffice/student-accounts/payment-of-fees/), which allows you pay for each semester in four payments that are one month apart. Learn more about the available methods of payment here.
3. What forms can I complete online? What if I don't have my Truman username yet?
The Math Placement Exam and Pre-Orientation Questionnaire are only available on Truview, but if you do not have your username and password yet, you can still fill out all of your other forms at iso.truman.edu/new_students/forms.asp or fill out your forms that we sent you in your admission packet (you can fax or scan and email these forms to us). Graduate and Exchange students do not complete the Math Placement Exam and Pre-Orientation Questionnaire.
4. When should I apply for my visa?
As soon as possible! Do not wait to do this at the last minute.
5. I'm nervous about my visa interview? What should I expect?
You should first carefully read the U.S. Department of State visa preparation section. Then prepare a list of reasons for why you chose to attend Truman State University (find out more about the specific department for your area of study at Truman at the Majors & Minors page) as well as a list of reasons for why you want to live and go to school in Kirksville, Missouri (Kirksville's website may be helpful: www.kirksvillecity.com/).
If you need more help, you can contact the Education USA office (www.educationusa.state.gov/) in your country/city for some helpful tips about the visa interview.
Be prepared, but don't be too nervous. During the interview, just relax and be yourself.
6. How do I know when I've finished the enrollment process?
We will send you an email when we have received all of your documents.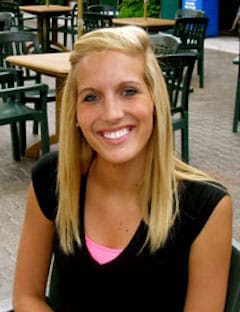 "I found it very relaxing to get away from the hustle and bustle of a big city and get the chance to enjoy all of the aspects of a smaller town. This town is a wonderful place to enhance your college experience."
– Bethany Williams ('13), Communication Major