Confirming Your Attendance
value in the nation among public colleges & universities (Consumers Digest 2015)
Confirming Your Attendance (International Students)
In order to confirm your attendance at Truman State University, please complete the 11 items below.

 Join other admitted students on Facebook! (Request to join group)
Important Dates
Residence hall check-ins open: Wednesday, January 7, 2015
Plan to arrive to campus by: Wednesday, January 7, 2015 
All students must check-in with the International Student Affairs Office Staff: Wednesday, January 7 or Thursday, January 8, 2015
Mandatory Orientation Classes begin: Thursday, January 8, 2015 at 8:00 AM
---
Logging into your TruView account
A student identification (ID) number will be assigned and e-mailed to you to log in to TruView and access online forms under the Admitted International Students tab.
Acceptance of Admission Offer

Immediately upon deciding that Truman is the right college for you, please inform us of your intent to study at Truman.
The Acceptance of Admission Offer Form should be the first form you submit to Truman. Do NOT wait until you receive a visa to submit this form.

Visa Status Notice
Travel Plan Confirmation

Complete and return this form immediately after making your flight reservations and other travel arrangements.
These arrangements may include booking a space on Truman shuttles from KCI or local trains, buses, and planes.
For help on how to travel to Truman, click here.

Residence Hall Application

Freshmen under 21 who begin at Truman in the fall semester are required to live in the residence halls for two semesters.
If you are not a freshman under 21 and wish to live off campus, please email intladmit@truman.edu and inform us of your decision.

Registration Questionnaire
Registration Agreement

Truman requires all students to agree to be financially responsible for their university expenses.
Sign, date, and submit this form and arrange for the payment of your tuition and fees prior to leaving your home country.
For information on how to pay your tuition, click here for details.

Mathematics Placement Test

This test is required of all students. Complete this form on your Accepted International Student Tab on TruView.

Foreign Language Placement Test

Submit this test if you are studying a language other than English.
Complete this optional form on your Accepted International Student Tab on TruView.

Medical History
Meningococcal Vaccination Form

If you will be living on-campus, you must provide proof you have received the Meningococcal Vaccination.

Immunization Records

You must provide proof of all immunizations you have received. State law requires all students to have received two measles, mumps, and rubella (MMR) vaccinations and a meningococcal vaccination.
Your records should be translated to English.
Scan and email your immunization records to intladmit@truman.edu.
Once we have received all of your required documents for enrollment, we will e-mail you a completed file confirmation. After you have received this e-mail you will be ready for orientation!
---
This information can also be found in the Center for International Students Registration Guide in your Admissions Packet or on TruView.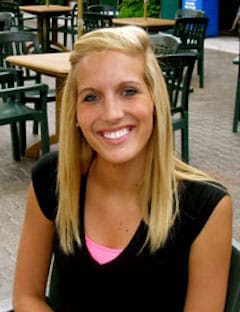 "I found it very relaxing to get away from the hustle and bustle of a big city and get the chance to enjoy all of the aspects of a smaller town. This town is a wonderful place to enhance your college experience."
– Bethany Williams ('13), Communication Major