Rankings & Recognitions
value in the nation among public colleges & universities (Consumers Digest)
Truman State University
National Rankings and Recognitions
---
U.S. News & World Report's "Best Colleges 2014"
For the 18th year in a row, Truman State University has been recognized as the No. 1 Public University in the Midwest Regional category. Truman is also listed at No. 8 in the Midwest Region under "Great Schools at Great Prices." Of the 15 schools listed, Truman was the only public institution.
USA Today, Jan. 28, 2014
"Truman State University in Kirksville, Mo., a newcomer to the top 10 public universities, boasted the lowest tuition for out-of-state students, $12,968."
NBC Today Show, Jan. 28, 2014


"It is branded the Harvard of the Midwest. It is such a value. It's really one of the gems of the 150 schools that we put in the Best Value Colleges. Not a lot of people know about it. Great value academically and smoking value financially for in-state as well as out-of state-students."

— Rob Franek, author of "The Princeton Review's Best Value Colleges"
Kiplinger's Personal Finance magazine, February 2014
Truman ranked No. 12, on Kiplinger's list of the 100 "Best Values in Public Colleges." Truman is the highest-rated Missouri school on Kiplinger's list and was the only university in the state to be included in the top 50. Truman is also ranked 9th in the nation for the best out-of-state value.
Fiske Guide to Colleges, 2013
Truman is listed as one of 20 best public buys in the "Fiske Guide to Colleges." The guide evaluates public and private colleges by cost and academics. Truman was on their list of 41 schools, 20 public and 21 private, as a best buy. Truman is the only Missouri school included on the Best Buy list.
Barron's Best Buys in College Education, 11th Edition
Truman is "a nationally recognized leader in curriculum innovation and one of the best education values in the nation."
The website Parents & Colleges
Truman is one of the "Ten Best Value Public Colleges and Universities," for universities that offer an excellent education at an affordable cost, due to low tuition rates and/or generous financial aid policies.
Washington Monthly magazine, September/October 2013
Truman is ranked No. 3 in the Master's University category of the 2013 Washington Monthly College Rankings. Truman is the only Missouri school listed in the top 75, and the only public Missouri school in the entire Top 100 Master's Universities list. Washington Monthly bases its rankings on three criteria: social mobility, which gives college credit for enrolling low-income students and helping them earn degrees; research production, with particular emphasis on schools where undergraduates eventually earn PhDs; and commitment to service.
Public Colleges of Distinction 2013-14 Guidebook
Truman one of only 48 schools nationally to be recognized as a College of Distinction in the Public Colleges of Distinction 2013-14 eGuidebook. A College of Distinction is: nationally recognized by education professionals as an excellent school; strongly focused on teaching undergraduates; home to a wide variety of innovative learning experiences; an active campus with many opportunities for personal development; and highly valued by graduate schools and employers for its outstanding preparation.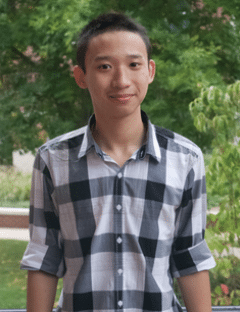 "The atmosphere at Truman is warm. People here are friendly and are willing to help you whenever you need it. Also, there are plenty of organizations available to help international students to make new friends, understand new cultures, and enjoy life in America."
– Anh Duc M., Mathematics & Economics, Vietnam