Costs & Scholarships for International Students
value in the nation among public colleges & universities (Consumers Digest)
Costs & Scholarships for International Students
---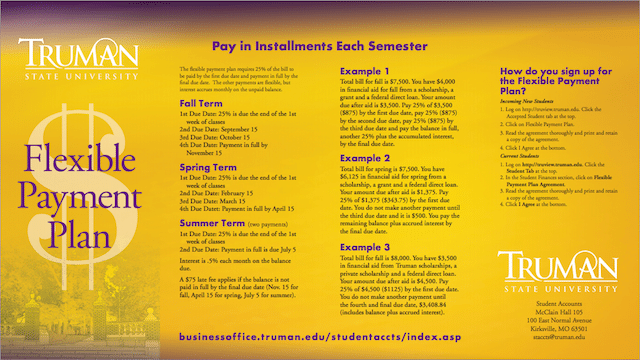 Flexible Payment Plan: Truman offers the option to pay your tuition in installments! Click for details →
Undergraduate estimated expenses breakdown and scholarship information for 2015-2016
Graduate estimated expenses breakdown and scholarship information for 2015-2016
(If you plan to complete your undergraduate degree or an exchange program at Truman, see Graduate Truman Alumni section below for opportunity to receive partial tuition waiver on graduate studies)
Visiting student estimated expenses breakdown and scholarship information for 2015-2016
Graduate School Incentive for Truman International Students
International students who have earned an undergraduate degree or completed an exchange program at Truman State University qualify for a waiver of the out-of-state portion of tuition for graduate studies at Truman. Applications for this waiver may be submitted to the Graduate Office after the undergraduate degree is awarded. The waiver applies to "future" tuition and fees only and may not be approved retroactively. Contact gradstudies@truman.edu for a copy of this application.
Exchange Student
Exchange Student Rates
For exchange students, please contact your home university's exchange program for details.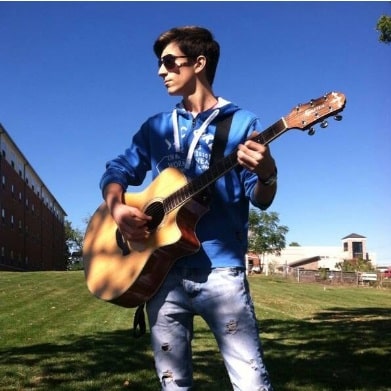 "The campus is really beautiful. Life on campus was really comfortable. People were always friendly, welcoming and curious about you. My favorite thing about Truman was the Truman spirit. The university knew well how to integrate and create a feeling of trust and harmony in its students."
– Luka Stankov, France