International Students: Estimated Costs
value in the nation among public colleges & universities (Consumers Digest)
International Students at Truman State University
The estimated costs for the 2014-2015 academic year: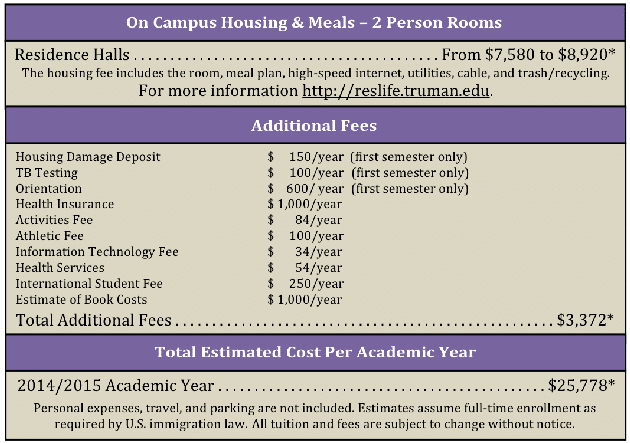 Understanding the Costs
Payment of Tuition and Fees: International students must pay each semester's tuition, activities fee, housing and insurance the first week of the semester. Learn more about available methods of payment here.
Orientation: The Orientation Fee is a one-time charge for all first semester students. Attendance at Orientation is MANDATORY.
Health Insurance: International students are required to purchase health insurance for every semester of attendance at the University. The charge will be applied to your student account each semester. Check the section about Health Insurance for details.
Living on Campus: All freshmen under 21 years of age are required to live on campus. Those who begin in August must live on campus for two semesters. Those who begin in January must live on campus for one semester. Transfer students and graduate students are encouraged to live on campus to make friends and become accustomed to American college life.
Textbooks: The cost of books is estimated at $450 per semester; however, this varies with each student's course of study. Students may purchase their books from either one of the two textbook stores near campus: The University Bookstore and Patty's Bookstore.
Scholarships: University scholarships will be automatically applied to your student account within 5 days of the first day of classes. If your scholarship has not been applied, please talk to the Financial Aid Office.
Emergency: If an emergency delays the arrival of funds from overseas, the student must discuss this with the Center for International Students staff during the first week of classes. After this date, late payment penalties will be assessed. Lack of payment by the 4th week of school will result in disenrollment from the university.
For more information about tuition and fees, including Truman's Flexible Payment Plan, consult the Business Office Webpage.
Graduate School Incentive for Truman International Graduates
International students who have earned an undergraduate degree or completed an exchange program at Truman State University qualify for a waiver of the out-of-state portion of tuition for graduate studies at Truman. Applications for this waiver may be submitted to the Graduate Office after the undergraduate degree is awarded. The waiver applies to "future" tuition and fees only and may not be approved retroactively. Contact gradstudies@truman.edu for a copy of this application.
Scholarships
Upon completion of the application for admission, students are automatically considered for all Truman scholarships. International students can be awarded scholarships amounting up to 50% or more of tuition for 8 semesters (4 years). To renew an award, students must participate in 4 hours of service per week and maintain a 3.25 GPA. Students are highly encouraged to apply for private scholarships as well to help make Truman an affordable and fiscally responsible educational decision.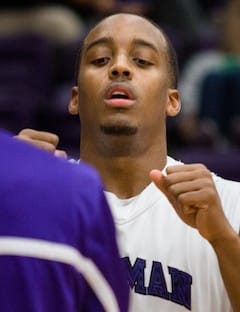 "Truman week was my favorite thing about freshman year, by far! I met so many incoming freshmen as well as other students during this time. I had a blast with all of the activities that went on and learned so much more about Truman at the same time."
– Marek B., Justice Systems Major, Psychology Minor