The 2017-2018 Parent Project will provide phase-two funding to build an outdoor pavilion in Red Barn Park located on the Truman campus.
Truman's beautiful campus continues to draw prospective students to campus while providing a backdrop to countless memories for current and future students. This year's Parent Project improves the already beautiful Red Barn Park by creating a space for a variety of uses. The outdoor pavilion will create a functional and attractive space near Stokes Stadium for classroom activities, student organization sponsored events as well as informal gatherings.
Parents have a strong record of supporting past Parent Projects. This year's project is an investment in campus beautification that provides a beautiful space in Red Barn Park for a variety of special gatherings.
Support the Parent Project
Ways to give to Truman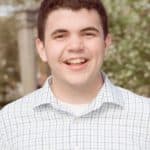 Truman State University prides itself on both its academic reputation as well as its affordable accessibility. These qualities are what drove me to Truman. I knew that I would receive a top-quality liberal arts education without plummeting far into student debt.