Foundation Board: Wayne Blackman
Wayne Blackman ('86)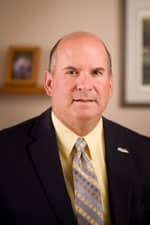 Wayne Blackman is employed by U.S. Bank where he serves as the market president for Kirksville, Mo., and the NEMO/SCIA commercial business development officer.
Blackman has been in the banking business in the NEMO area since he received a bachelor of science degree in business administration from Truman State University in 1986. While attending the University, he was a member of the Delta Chi fraternity.
Currently, Blackman is a member of the Thousand Hills Rotary Club, Kirksville Regional Economic Development Committee, and an advisor for the Kirksville Area Vocational Technical School's construction trades and small business classes.
Blackman and his wife, Kimberly (Knowlson) Blackman, a 1984 Truman graduate, have two sons, Joshua and Jacob.