Foundation Board: Sharron Quisenberry
Sharron (Bailey) Quisenberry ('66)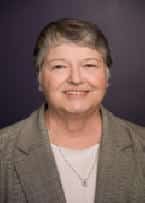 Sharron (Bailey) Quisenberry retired in 2013 after serving as the vice president for research and economic development at Iowa State University of Science and Technology. She served 5 1/2 years as dean of the College of Agriculture and Life Sciences at Virginia Tech, four years as dean of the College of Agriculture and director of the Montana Experiment Station at Montana State University and eight years in department-level administration prior to coming to Iowa State University. 
Quisenberry is recognized nationally and internationally for her work in host plant resistance to insects and insect-plant interactions. With a colleague, she co-authored a seminal book on conservation of germplasm for insect resistance that is widely used. She has published more than 100 articles, books and book chapters, with more than 150 other technical publications, including a patent and three registered germplasm/cultivars. Quisenberry is a fellow of the Entomological Society of America and served as president of the Society in 2000. She has served on the National Academy of Sciences' Board on Agriculture and Natural Resources and on the Board for International Food and Agriculture Development. 
Quisenberry has a bachelor of science education degree in biology (1966) from Truman State University and a master of arts degree in environmental biology from Hood College. She earned a master of science degree and doctorate degree in entomology from the University of Missouri-Columbia. 
As a student at Truman, Quisenberry was active in several organizations including the Student National Education Association, Baptist Student Union Center and Delta Zeta social sorority.
Quisenberry and her husband, Larry, are members of Truman State University's Joseph Baldwin Society, the John R. Kirk Society and the Iowa Alumni Chapter, and they also served as members of Truman's "Bright Minds Bright Futures" Iowa Regional Campaign Committee. The Quisenberrys were honored as Truman's 2010 Alumni of the Year, and they have established the Sharron Quisenberry Scholarship in Business and Science at Truman.