Foundation Board: Mindy McCubbin
Mindy (Frick) McCubbin ('97)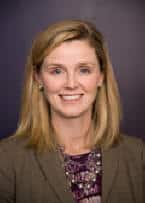 Mindy McCubbin ('97) serves as equity portfolio manager at Shelter Insurance Companies in Columbia, Mo. As part of the Investments Department of Shelter, She is responsible for co-managing more than $700 million in investment assets across the insurance operations, employee benefit plans and the Shelter Foundation. McCubbin is also an adjunct faculty member at Stephens College in Columbia. Prior to joining Shelter, her previous work experience included various financial planning, analysis and management positions at The Boeing Company in St. Louis, Mo.
At Truman, McCubbin was a member and officer of Alpha Sigma Alpha, the Financial Management Association and the American Marketing Association. She graduated from Truman in 1997 with a bachelor's degree in finance. She received an M.B.A. degree from the John Cook School of Business at St. Louis University. McCubbin is currently a Level II candidate for the Chartered Financial Analyst (CFA) designation.
She served on the Mid-Missouri Committee for Truman's "Bright Minds Bright Futures" Campaign. In 2012, McCubbin and her husband, Travis, a 1997 Truman alumnus, were honored as Truman's Young Alumni of the Year.
The McCubbins are the parents of a daughter, Riley, and a son, Tyler.