John Thompson ('92)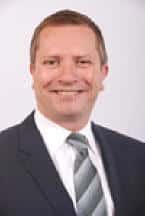 John Thompson is a partner and head of investment solutions for Hewitt EnnisKnupp, a global investment consulting firm for institutional investors and based out of Chicago, Ill. In his role, Thompson provides investment manager research, risk management, global asset allocation and portfolio construction advisory services, as well as alternative solutions across hedge funds, private equity and real estate.
He has additional experience as a senior vice president for Morningstar Investment Management, where he was head of investment implementation and oversight. Thompson also held several positions with Ibbotson Associates prior to their acquisition by Morningstar in 2006. Thompson has additional experience as an account manager and underwriter with AON.
Active in research, Thompson's work has appeared in Financial Planning, International Political Economy and World Trade Magazine. He is a frequent speaker at industry and client conferences. At Truman, Thompson serves on the Foundation's Investment Committee.
A 1992 graduate of Truman, Thompson received his bachelor of arts in history, and then went on to a Fulbright Scholar position in Montevideo, Uruguay. He earned a master of arts in Latin studies and a master of business administration from the University of Chicago.
Thompson is a native of Williamsville, Ill.