Foundation Board: Jeannette Harris
Jeannette (Toth) Harris ('71, '78)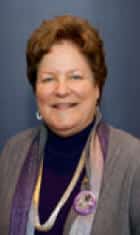 Jeannette (Toth) Harris is the second of eight daughters of John and Virginia Toth of Foristell, Mo. She spent her early years on a working farm and entered St. Theodore's school in Flint Hill for first through fifth grade. At the beginning of sixth grade, Harris and her twin sister, Geraldine (Toth) Ready, were transferred to Wentzville R-III School District where they completed their early education. 

In the fall of 1965, with $100 of egg and cream money, the sisters enrolled at Northeast Missouri State Teachers College (now Truman State University). They immediately found a job waiting tables at the White Cabin Restaurant, earning 49 cents an hour. This job lasted through their freshman year, and in the fall of their sophomore year, they began serving breakfast and lunch at Missouri Hall. During their junior year, Harris worked as an assistant in the Home Economics Department for Mrs. Rose Shanight and Dr. Dorothy Pearson, and her twin sister worked in Science Hall for Dr. Jack Magruder, Dr. Setlage, Dr. Selser and Dr. Milliken. At mid-year of their junior year, the twins were out of funds and had to leave school to find gainful employment. 

In August of 1968, Harris (armed with 60 hours of college credit) landed her first teaching position teaching fourth and fifth grade at Sacred Heart Elementary School in Troy, Mo. Realizing that if they were ever going to finish college, one would have to support the other, Harris sent her sister back to school to finish her degree in business administration with a minor in economics. After her twin graduated, Harris spent the next full year working in Science Hall for Dr. John D. Black and finishing her bachelor of science degree in vocational home economics. Harris graduated with her B.S.E. degree in August of 1971.

Harris's teaching career took her to the Keytesville School District in Keytesville, Mo., where she taught four years of vocational home economics to grades seven through 12. During those years, she was active in the Missouri State Teachers Association and the Missouri Vocational Home Economics Association and served as a sponsor for the senior class, Future Homemakers of America and Pep Club. In 1975, Harris went to the Mendon Northwest School District to teach fifth grade, and she also began working on her master's degree in elementary education from NMSU/Truman. After earning her master's degree in 1978, she went to the Francis Howell School District in St. Charles County, Mo., where she taught at the elementary school for three years. She then went to the Fort Zumwalt School District in O'Fallon, Mo., in 1980, where she taught fourth and fifth grade, and she finished her public school teaching career teaching sixth-grade social studies in June 2001.

During her years at Fort Zumwalt, she was active in the Missouri National Education Association and the National Education Association. Harris was a Fort Zumwalt Education Association officer for 20 years and served as parliamentarian, treasurer, vice president and president. She served five years on the Missouri-NEA State Board of Directors and was a delegate to the NEA National Convention for four years. During the NEA National Conventions in 1996, Harris, along with nine other delegates, met and talked with then President Bill Clinton.
 
In 2004, Harris joined the staff at St. Charles Community College (SCCC) where she teaches classes for pre-service teachers. Harris also serves on the Education Advisory Board at SCCC and is a member of the Education Committee that reviews additions or deletions of courses for the AAT degree. 

In 2003, she joined the Truman Alumni Association Board of Directors and served for six years. In 2007, she accepted the secretary's duties for Truman's St. Louis Alumni Chapter, where she has worked tirelessly to promote the annual St. Louis Chapter Scholarship Golf Scramble as well as other fundraising projects. Harris also served as the St. Louis chairperson for Truman's "Bright Minds Bright Futures" Campaign.

Harris and her twin sister jointly funded an annual scholarship for a Truman student. In addition, she and her husband, Jim,  a 1977 Truman alumnus, established an endowed scholarship at Truman. Harris says her motive for funding scholarships is to "give back to the University that helped me develop my life and has provided me the ability to give generously to my family, my community, and my University. In 2010, Harris received Truman's Distinguished Service Award. 

Harris and her husband reside in O'Fallon, Mo. They have two children, Steven Michael Harris and Karen Virginia (Harris) LeFors, who are both accomplished high school teachers and coaches.