Foundation Board: Geraldine Ready
Geraldine (Toth) Ready ('70)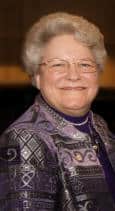 Geraldine (Toth) Ready is a daughter of John and Virginia Toth of Foristell, Mo. She is a 1965 graduate of Wentzville High School and a 1970 graduate of Truman State University (formerly Northeast Missouri State University). She graduated from Truman State University with a bachelor of science degree in business administration and a minor in economics.
Upon graduation, she began her business career with JCPenney Inc. During her 37 1/2 year career with JCPenney she held several assignments including Distribution manager, assistant buyer and inventory manager before her final assignment as project manager in the information systems and development area where she assisted in the development and implementation of several user applications. During this assignment Ready also created user manuals for the applications and facilitated training sessions for all of the applications users. Since retirement at the end of 2007, she and her husband, Michael, have enjoyed retirement in Sun City Center, Fla.
Ready has been an active Truman State University alumnus for the last 20 years. She has worked with other alumni to build and grow the Truman State University Alumni Chapter in Dallas, Texas, where she held the office of secretary/treasurer for many years before her retirement and move from Texas to Florida. During her work with the Dallas Alumni Chapter, she served three years as the Dallas representative on the Truman State University Alumni Board of Directors.
Ready and her twin sister, Jeannette (Toth) Harris, have funded an annual scholarship for the past 10 years, and Ready and her husband, Michael, are members of the Joseph Baldwin Society and the John R Kirk Society. In 2006, she received the Truman Alumni Distinguished Service Award.
Ready has remained active with Truman State University since her retirement in 2007. In 2010, she co-chaired the "Bright Minds Bright Futures" kickoff event in Tampa, Fla., where she told those gathered that "the most important thing we can do in life is grow our students, increase their opportunities, and cultivate our alumni to help in the process of their growth." She currently serves as the Foundation Representative to the Alumni Board of Directors.
Ready attributes her success to a supportive family, a great elementary and secondary education (where many of her teachers were NMSU/Truman graduates) and a sound college experience that prepared her for the real world work force. She says that she has used every aspect of her college education experience in her career at JCPenney and her work in the communities in which she has lived.