Foundation Board: Gail Crump
Gail B. Crump ('64)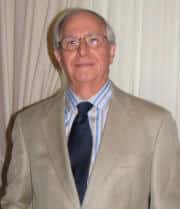 Gail B. Crump, a Kirksville native, graduated summa cum laude from Truman State University in 1964 with a B.A. and a B.S.E. in English. While at Truman, he and his twin brother, the late Gary A. Crump, were active in the College Players, Blue Key, Alpha Phi Omega, and other organizations.
Crump received his M.A. degree in English in 1965 and his Ph.D. in English in January 1970, from the University of Arkansas, where he was selected as a member of Phi Beta Kappa. His field of academic specialization is Modern British and American Literature, particularly fiction and drama.
In September 1969, he joined the faculty of the department of English at the University of Central Missouri in Warrensburg, and he has taught there ever since.
He is the author of The Novels of Wright Morris: a Critical Interpretation, published by the University of Nebraska Press, and a number of critical articles. During his career, he has served on the editorial board of the D. H. Lawrence Review, edited several issues of the Publications of the Missouri Philological Association, and served as fiction editor of Pleiades: A Journal of New Writing. He is also a partner in Cave Hollow Press, a little press devoted to publishing original fiction by Midwestern writers.
As a faculty member at the University of Central Missouri, he has served as chair of the Department of English and Philosophy, interim chair of the Department of Modern Languages, interim chair of the Department of Geography and Interdisciplinary studies, and Associate Provost.