Dennis Hohn ('67, '73)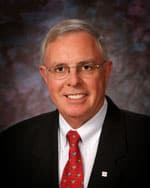 Dennis Hohn, of Ottumwa, Iowa, is a manager and financial advisor with Edward Jones.
Prior to his current position, he taught at Washington Junior High School in Ottumwa. Hohn also served in the U.S. Army including time with the U.S. Army Security Agency
Hohn received a bachelor of science in education from Truman in 1967 and a master's degree in history in 1973. While attending the university, he was a member of Alpha Phi Omega, College Republicans, Historical Society, and Sigma Tau Gamma.
Currently, Hohnserves as secretary of the Ottumwa Regional Health Foundation Board and is a member of Ottumwa Rotary and the Ottumwa Area Chamber of Commerce. He is a past board member of Ottumwa Progress Inc.
Hohn has three daughters, Monika, Emilie, and Jessica.