David Nichols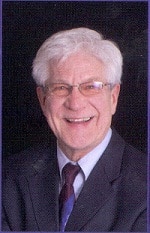 David Nichols joined the music faculty at Truman State University in 1966, later serving as the director of graduate program in music until his retirement in 2001.
During his tenure at Truman, Nichols served as a member of the Council for Teacher Education, the Undergraduate Council, the Graduate Council, the Faculty Senate, and he also served on a wide variety of faculty and administrative committees.
Trained as a historical musicologist with an M.Mus. and Ph.D. from Indiana University, Nichols received his undergraduate degree from University of Wisconsin-River Falls. He has been active as a musicologist, writer, conductor, and clarinetist/saxophonist throughout his career. At the time of his retirement, he held the positions of professor of music and director of the graduate program in music.
Nichols is the author of Musical Encounters, a college textbook in music appreciation and history (2001), and Founding the Future: The History of Truman State University (2007). He also wrote content and designed exhibits for Truman's Ruth W. Towne Museum and Visitors Center.
Throughout his life, Nichols has been an active leader in several philanthropic and religious organizations. He has served as president of the Kirksville Rotary Club, Faith Lutheran Church, the Salvation Army Advisory Board, Hospice of Northeast Missouri, and the Red Barn Arts League (predecessor to the Kirksville Arts Association). He currently serves on the Board of Directors and the Board of Trustees for the Missouri Arts Council and is also a member of the Executive Board of the Missouri Association of Community Arts Agencies.
He and his wife, Debra Fortenberry Nichols, established the Debra Fortenberry Nichols Brass Scholarship at Truman in 2004 and later created the Dr. David C. Nichols Excellence in Music Fund in recognition of his distinguished service to Truman State University.