Cindy Spiker ('93)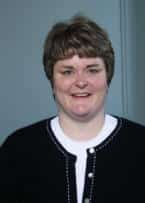 Born and raised in Blue Springs, Mo., Cindy Spiker graduated from Truman in 1993 with a degree in mathematics. She also received an M.S. degree in statistics from the University of Idaho in 1995. 
Spiker lives in Des Moines, Iowa, and works in database marketing for Meredith Corporation, which publishes many magazines and owns several television stations.
She serves as president of Truman's Iowa Alumni Chapter president, is a past member of the Truman Alumni Board of Directors and she co-chaired the Iowa Regional Committee for the University's "Bright Minds Bright Futures" Campaign (2006-2011). In 2005, she was honored as Truman's Young Alumna of the Year at Homecoming.
Spiker enjoys golf, sand volleyball, watching baseball games, and spending time outdoors.