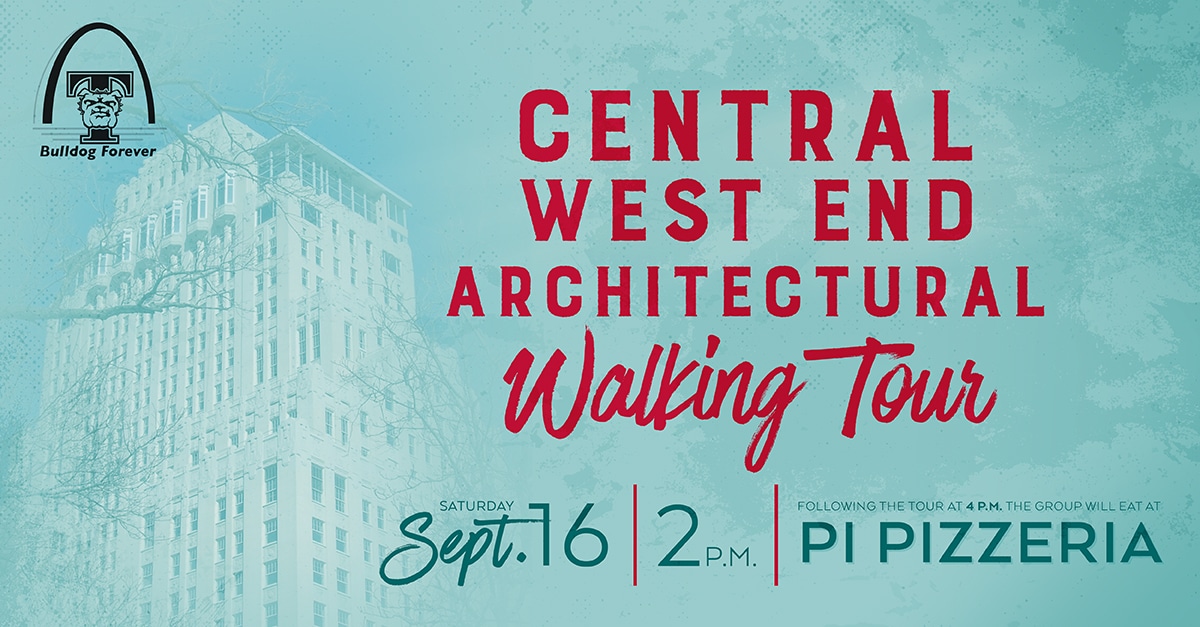 CENTRAL WEST END ARCHITECTURAL WALKING TOUR

Saturday, September 16, 2017 | 2 p.m.
Meeting Location: Pi Pizzeria
400 N. Euclid Ave. | St. Louis, MO 63108
Join fellow Bulldogs for a Central West End Architectural Walking Tour! St. Louis architectural tour guide extraordinaire and Truman alumnus Chris Naffziger ('00) will lead attendees on a guided walking tour of the Central West End (CWE).
Perched on the eastern edge of Forest Park and over a century old, the chic Central West End is full of charming sidewalk cafes, galleries, antique shops, restaurants, boutiques and pubs. CWE architectural highlights will include: Cathedral Basilica of Saint Louis, The Chase Park Plaza Hotel, American playwright Tennessee William's boyhood home, Westminster Place, Pershing Place, and Second Presbyterian Church, designed by German born Theodore Link, the architect of St. Louis Union Station.
After the tour, attendees are welcome to gather at Pi Pizzeria for a meal. Please indicate if you plan to dine on-your-dime with us at Pi Pizzeria so a dinner reservation can be made. The Central West End architectural walking tour is FREE to chapter members. Non-member price is $10 per person. Membership is now available for half-price!
Interested in attending? Get tickets online through Friday, September 8. Spots are limited to 25 attendees. For more information, please contact the Office of Advancement or 800-452-6678.