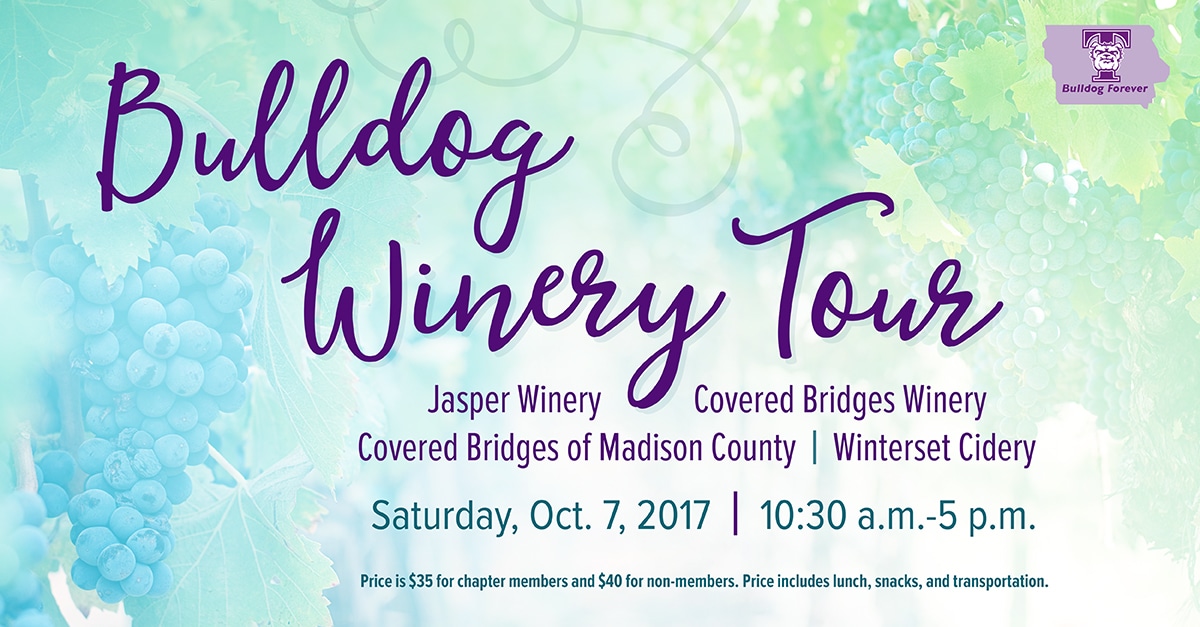 IOWA WINERY TOUR & ROAD TRIP

Saturday, October 7, 2017 | Tour starts at 10:30 a.m.

Jasper Winery | Covered Bridges of Madison County | Winterset Cidery

Join the Iowa Alumni Chapter for a wine and cider tour of Madison County! Attendees will meet at Jasper Winery at 10:30 a.m., and then will be touring one more winery and cidery in beautiful Winterset, Iowa, all while exploring the beautiful covered bridges of Madison County. What a beautiful way to spend an autumn Saturday!

Here is the schedule for the day:

10:30 – 11:30 a.m. – Meet at Jasper Winery for Wine Tasting
11:30 a.m. – Depart Jasper Winery for Winterset, Iowa
12 p.m. – Catered picnic lunch in Winterset provided by the Alumni Chapter
1 p.m. – Visit and tour several Madison County attractions, tour Covered Bridges Winery and Winterset Cidery
5:30 p.m. – Return to Des Moines, IA

Transportation: Road trip with us! Catch a ride with the group in a van. We will be departing from Jasper Winery. All participants can leave their cars at Jasper Winery and pick them up at the close of the day.

Cost: Tickets for this event are $35 for Chapter Members and $40 for Non-Chapter Members. All alumni and friends who want to ride in the van MUST pre-pay online. Lunch in Winterset catered by Iowa Truman Alumni Chapter and snacks to be provided throughout the day. Alumni are welcome to drive their own vehicles but you must still register online for the tour.

Interested in attending? Contact Jean Kaul at (641) 629-6206 or the Office of Advancement at (800) 452-6678. RSVP by Tuesday, October 3, 2017.