Truman State University National Spirit Days
---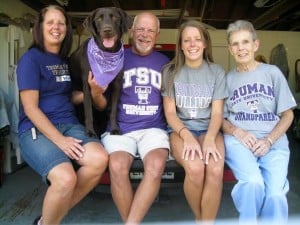 No matter where you live, you can stay connected to Truman by participating in events like Truman State University's National Spirit Days, which are celebrated twice a year.
While every Friday on the Truman campus is "Purple Friday, "there are two designated dates for celebrating Truman State University National Spirit Day  — one is the first Friday in April and the second is the first Friday in October.
For the University's National Spirit day, the Truman Alumni Association encourages all alumni, students, friends, families, and supporters of the University all around the world to wear Bulldog purple or Truman (or Northeast) apparel and decorate your homes and offices with Truman gear. You can also decorate your kids and pets from head-to-toe Bulldog purple for a chance to win prizes.
How to Submit a Photo

It's easy to send a photo:
Tweet them to @TrumanAlumni
Email them to bulldogforever@truman.edu
Click on our "Send Photo now" button  to use our online submission form Send photo now
Categories & Prizes
Everyone who sends us a photo will have a chance to win some Truman swag. Top photos in each category will win a Truman duffle bag or travel mug:
Most Spirited: Alumni & Friends
Bulldog Pride: Students
Truman Tykes: Children Age 12 & under
Spike's Furry Friends: Your Favorite Pet
Watch for photos to be posted on the Truman Alumni Facebook page.
---
About Truman State University National Spirit Days
In 2011, the Truman Alumni Board of Directors started this tradition when they designated the first Friday in the months of April and October as Truman State University National Spirit Days. The idea was born from a spirit day initiated by Truman's Kansas City Alumni Chapter.
The purpose of Truman National Spirit Days is to promote Truman to prospective students; to give alumni and friends an opportunity to display their pride in their alma mater; and to create awareness of the University locally, nationwide and internationally.
Truman State University's National Spirit Days are sponsored by the Truman State University Alumni Association and Student Government.