Alumni Chapter of the Year
Alumni Chapter of the Year
Truman's ten alumni chapters vie for this annual award which recognizes a chapter's success in building alumni engagement. Chapters can gain an edge by hosting regional events, recruiting new members, organizing volunteer or philanthropic opportunities in the chapter region, demonstrating support for current Truman students, and using communications to keep members connected to the chapter and the University.
---
2016 Alumni Chapter of the Year
NEMO Alumni Chapter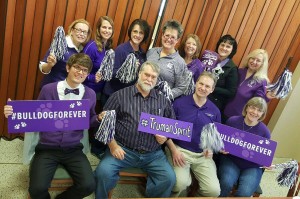 The NEMO Alumni Chapter was selected by the Executive Committee of the Truman State University Alumni Board of Directors to receive the 2016 Alumni Chapter of the Year Award. The award recognizes the outstanding achievements of the chapter in support of the Truman Alumni Association and the University.
The chapter was recognized for their success in recruiting engaged volunteers who have planned strategies to increase membership and program participation.
Runner-ups to the 2016 Alumni Chapter of the Year were the Iowa Alumni Chapter and the Mid-Missouri Alumni Chapter.
---
Previous Alumni Chapter of the Year Recipients
2016: NEMO Alumni Chapter
2015: NEMO Alumni Chapter
2014: Iowa Alumni Chapter
2013: Arizona Alumni Chapter & Mid-Missouri Alumni Chapter
2012: NEMO Alumni Chapter
2011:  Mid-Missouri Alumni Chapter
2010: Iowa Alumni Chapter