Alumni & Friends Travel Program
The Truman Alumni Association is proud to offer group travel programs that allow alumni, friends and other members of the Truman family to explore the world together. All alumni, families and friends of the University, along with other members of the Truman community are invited to participate in our Truman Alumni & Friends Travel Program.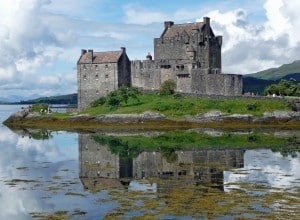 2017 Trip: Scotland
The Truman State University Alumni Association invites you to join us for a tour of Scotland! The tour covers most of the country, including the Isle of Skye. Enjoy fascinating castles, charming villages and cities, and intriguing history. Scotland is breathtaking with green hills, woods and amazing beaches. Visit national parks and watch for the Loch Ness monster as you tour the Highlands; noted cities include Glasgow, Stirling and Edinburgh.
Featured stops may also include Bannockburn, Glengoyne, Loch Lomond, Culloden Moor and St. Andrews. This trip includes transportation (motor coach, along with ferry to the Isle of Skye), transfers, luggage handling and most tips. Daily excursions are included; a few optional excursions will be offered. Daily breakfast is also included, along with five dinners and first-class hotel accommodations.
The group will traverse the country in comfort in a deluxe motor coach that includes free Wi-Fi, an experienced driver and a knowledgeable guide. Travel with your fellow alumni and friends and leave the headaches of individual travel behind. Each traveler receives a Truman travel package that includes an all-season jacket, tote bag and T-shirt. The cost of this eight-day trip is only $2,119* plus airfare. You can save an additional $194 by booking by November 29, 2016, reducing the cost to $1,925 plus airfare. The tour departs on May 31, 2017, and returns on June 8, 2017. (Dates may vary slightly due to flight availability.)
There is an optional post-trip three-day extension to London. The London extension includes three nights hotel accommodations, buffet breakfast daily, a city tour of London that includes a visit to St. Paul's Cathedral and Changing of the Guard at Buckingham Palace (if held), Destination Guide and a City Map. More detailed information will be available soon.
Make your plans now and book early to guarantee your spot. Space is limited and going fast! Contact Pat Lane, CTA; Travelers Lane, 314-223-1224, travelerslane@hotmail.com, www.travelerslane.com.
For More Information
To request information on Truman's Alumni & Friends Travel Program, contact Denise Smith, director of alumni relations at Truman State University, 660-785-4174, dlsmith@truman.edu. You may also contact Pat Lane, CTA, Travelers Lane;  314-223-1224, travelerslane@hotmail.com, www.travelerslane.com.
*Price may be subject to change.
Where do you want to go?
Future trip options: Panama; Washington, D.C.; Germany; Spain & Portugal; Italy; and Cuba. We welcome suggestions for future travel destinations; email dlsmith@truman.edu.