Alumni & Friends Travel Program
The Truman Alumni Association is proud to offer group travel programs that allow alumni, friends and other members of the Truman family to explore the world together. All alumni, families and friends of the University, along with other members of the Truman community are invited to participate in our Truman Alumni & Friends Travel Program.
2017 Trip: Scotland
The Truman State University Alumni Association travels to Scotland for their annual trip; the group departs May 31 and returns June 8 unless extending for London. (This trip is sold out!) We now have a sole use coach, so if you are interested and wish to be added to the new and revised wait list, contact Denise Smith, 660-785-4174.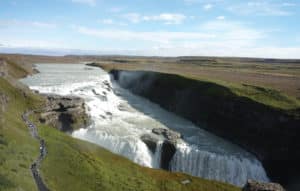 2018 Trip: Iceland 
Make your plans now and book early to guarantee your spot. Space is limited and will go quickly!
The six- to eight-day trip will feature scenic highlights like Iceland's most famous waterfall, the mighty Gullfoss and the national park at Skaftafell, along with a stop at Lake Jokulsarlon, the deepest lake in Iceland. Participants will have opportunities to explore the frozen landscapes featured prominently in "Game of Thrones." See icebergs, whale watch and to visit one of the world's largest geothermal power stations. Stops include Reykjavik, Geysir, Thingvellir and Kirkjubaejarklaustur. The trip includes most breakfasts and dinners. Knowledgeable and talented local tour guides will accompany the group daily. Travelers also enjoy a package of alumni "swag" including a logo jacket, shopping bag, luggage tags and luggage straps.
Tour now departs June 10, 2018, and returns June 16, 2018. (Please note new dates!) Prices start at $2799*, with a 10% discount if you register by September 10, 2017; plus airfare. (Pricing, dates and itinerary for 2018 are subject to change.) The trip could sell out immediately like the 2017 Scotland trip. If you are interested, do not delay in reserving your space…a small deposit will guarantee your spot. Final details and costs will be posted soon.
If you have questions, contact Alumni Director Denise Smith, email dlsmith@truman.edu, 660-785-4174; you may also contact Pat Lane, CTA; Travelers Lane, 314-223-1224, travelerslane@hotmail.com, www.travelerslane.com.
For More Information
To request information on Truman's Alumni & Friends Travel Program, contact Denise Smith, 660-785-4174, dlsmith@truman.edu.
Where do you want to go?
Future trip options: Panama; Washington, D.C.; Germany; Spain & Portugal; Italy; and Cuba. We welcome suggestions for future travel destinations; email dlsmith@truman.edu.
*Price and itinerary may be subject to change.