Travel with Us to Iceland
June 9-15, 2018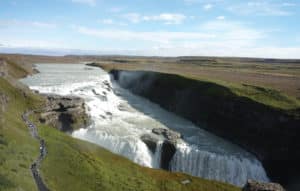 The Truman Alumni Association is proud to offer group travel programs that allow alumni, friends and other members of the Truman family to explore the world together. Make your plans now and book early to guarantee your spot. Space is limited and will go quickly!
The six- to seven-day trip to Iceland will feature scenic highlights like Iceland's most famous waterfall, the mighty Gullfoss and the national park at Skaftafell, along with a stop at Lake Jokulsarlon, the deepest lake in Iceland. Participants will have opportunities to explore the frozen landscapes featured prominently in "Game of Thrones." See icebergs, whale watch and to visit one of the world's largest geothermal power stations. Stops include Reykjavik, Geysir, Thingvellir and Kirkjubaejarklaustur.
The trip includes a daily breakfast, welcome reception and five dinners, along with first-class hotel accommodations. Daily excursions are included; a few optional excursions will be offered. You will travel in comfort on a deluxe motor coach that features complimentary Wi-Fi, an experienced driver and knowledgeable tour director. All travelers also enjoy a package of University "swag," including a logo jacket, shopping bag, luggage tags and luggage straps.
Pricing
Costs start at $2,799* per person (double occupancy)
Space is limited and available on a first-come, first served basis. 
Group airfare is priced separately from Chicago O'Hare at $869* and offered via a direct flight on Icelandic Air (space is limited and subject to availability; pricing subject to change). Travelers will need to make their own plans to travel to Chicago since this is an international flight through an international airline. If there is sufficient interest, group transportation may be available from Kirksville at a reduced rate.
If you are interested, do not delay in making your reservation! A small deposit will guarantee your seat. All alumni, families and friends of the University, along with other members of the Truman community, are invited to participate in the Truman Alumni & Friends Travel Program.
*Price and itinerary may be subject to change.
---
For More Information
If you are ready to make a deposit and commit to the 2018 trip, please contact Globus and speak to Ciera at (303) 703-7014, or call the Groups Department at (866) 821-2752. 

To request general information about Truman's Alumni & Friends Travel Program, contact Truman State University's Office of Advancement, (660) 785-4133, bulldogforever@truman.edu.
Have suggestions for future trips…let us know where you would like to go?
Future trip suggestions: Cuba; Germany; Greece; Hawaii; Italy; Panama; Spain and Portugal; and Washington, D.C. We welcome suggestions for future travel destinations; email bulldogforever@truman.edu.