Alumni Board: Ellen McLain
Ellen (Hoelscher) McLain ('87)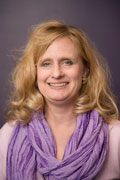 Ellen (Hoelscher) McLain, of Jefferson City, Mo., is originally from Washington, Mo., and graduated from St. Francis Borgia Regional High School in 1983. She earned Bachelor degrees in psychology and communication from Truman State University in 1987, a Juris Doctorate from Washington University in St. Louis, and a certificate in personal financial planning from Kansas State University. While a student at Truman, McLain was a member of the Delta Zeta social sorority, and in 1986, she served as a legislative intern for Rep. Everett W. Brown.
Since 1996, McLain has been employed as a development officer at the University of Missouri; she currently6 serves as the Executive Director for Constituent Units and the Special Assistant to the Vice Chancellor at MU. Previously, she worked in Engineering Development and the Arts and Science Advancement Office at MU, and she has also worked for the American Cancer Society. McLain completed a judicial clerkship with the Honorable Andrew Jackson Higgins of the Missouri Supreme Court.
McLain is actively involved with Truman's Mid-Missouri Alumni Chapter and has served as treasurer and president; she is a member of the Truman Alumni Board of Directors and serves as past president. McLain previously served on the Job Point Board of Directors. She enjoys running and has competed in the Hospital Hill Half Marathon (2015), the Kansas City Half Marathon (2008) and the Heart of America Marathon (1999).
McLain is married to Kevin, a geotechnical engineer with the Missouri Department of Transportation. Kevin has two degrees from Kansas State University and a masters degree in engineering and construction management from Iowa State University; he recently earned a Ph.D. in construction engineering from Iowa State University.