Alumni Board: Mike Wilson
Mike Wilson ('91)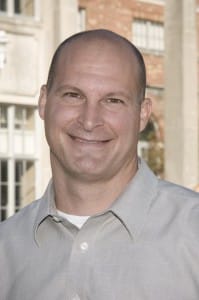 Mike Wilson grew up in Odessa, Mo., and is a 1991 graduate of Truman State University earning a B.S. in finance. While at Truman, he worked at the Student Union Building, participated in the legislative internship program in Jefferson City, and was active in Sigma Tau Gamma, Student Senate, the Intra-Fraternal Council and intramural sports. He also met his wife, Terri (Lyle) Wilson, at Truman.
Utilizing his degree, Wilson has spent most of his professional career in consumer lending and management. Starting in the collection ranks with GMAC in St. Louis, he then moved to Texas to run an office for a finance company and later moved back to Kansas City growing mortgage and loan portfolios for various financial institutions. He currently serves as Vice President, Consumer Loan Administration at UMB Bank.
They reside in Kansas City's northland area and keep very busy in the lives and activities of their four boys. Wilson is involved in his parish through the Finance Committee, Men's Club, Parish Steering Committee and youth group activities. He also finds time to participate in the Kansas City Corporate Challenge, train for marathons and is actively involved in the Kansas City Alumni Chapter. Wilson served six years on the Truman Alumni Board of Directors, including the role of vice president and president. As past president of the Board, he now serves as the Alumni Board Representative to the Truman State University Foundation Board of Directors.