Denise Smith ('79)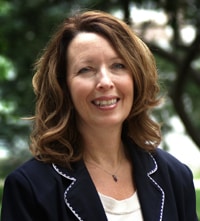 A 1979 graduate of Truman State University, Denise Smith received a B.S. in retailing and textiles with minors in business management and art. She is originally from Princeton, Mo., and has a long family history of Truman graduates. In honor of that history, Smith and her husband Clyde established and endowed the Jones-Nowlin-Smith-Boyer Family Scholarship which is awarded annually to a first-year Truman student from northern Missouri pursuing a degree in education or business.
Smith spent several years in marketing, design consulting, management and sales. For 13 years, she managed local radio station KMEM-FM, in Memphis, Mo.
A University employee since 2000, Smith is now the director of alumni relations at Truman, where she is responsible for the management and implementation of all local and nationwide alumni activities.
Smith has served as an advisor for the Student Homecoming Committee and the Student Alumni Council, served on numerous University committees and search committees, and is the secretary of the Truman Alumni Association Board of Directors.
She is married to Clyde Smith ('81); they have five children and five grandchildren. They are members of the NEMO Alumni Chapter, the John R. Kirk Society, and the Joseph Baldwin Society; they reside in Macon, Mo.