Brooks Miller ('82, '87)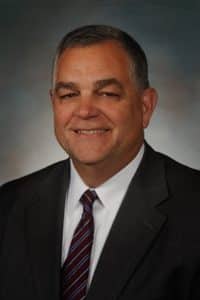 Brooks Miller is a graduate of Truman State University, receiving a Bachelor of Science degree in business administration in 1982 and a Master of Arts degree in education administration in 1987.
Miller began his healthcare career with the Kirksville College of Osteopathic Medicines' Rural Health Clinic program in 1984 and advanced to the position of CEO for the Northeast Missouri Health Council, a Federally Qualified Health Center (FQHC) providing comprehensive health services throughout Missouri. In 2002, Miller relocated to Springfield, Mo., to serve as the president and chief executive officer of a new start FQHC, Jordan Valley Community Health Center. Jordan Valley provides accessible and integrated primary, oral, optometric and behavioral health care services to over 50,000 patients annually, employing over 400 individuals and delivering services throughout seven clinics and five mobile units across southwest Missouri.
Miller has three grown sons, two grandsons and one granddaughter. He and wife, Patty, are active in the Springfield community. He has served as president of the Missouri Primary Care Association, vice president of the Springfield Utilities Board of Directors, chairman of the Community Advisory Committee of the Missouri Foundation for Health, as well as various other board and advisory groups. His hobbies include hunting, fishing, golf and general aviation.