As a transfer student, you aren't new to college, and Transition, our transfer orientation program, is designed with that in mind. You know what it means to sit in a college class and how to study for that next exam. And we want to help you learn all about the ins and outs of Truman where with more than 220 student organizations, it's easy to get engaged in campus activities and meet other students.
Start Making Connections
It's true that food is a big part of our Transfer Orientation. Why? Because food brings people together. And when those people include everyone from previous transfer students to the President of the University, you can gain some serious insight. You can meet faculty from your major and make valuable connections before classes even start. Worried about being a new student in a classroom full of peers? You'll remove those fears too when you meet all of the other students in your major.
When Is Transfer Orientation?
Transfer Orientation is held a few days prior to classes starting. This lets you get familiar with campus without feeling the pressure of getting from one class to the next. Transfer Orientation also occurs during our freshman student experience of Truman Days. This provides even more opportunity to meet new students at Truman during some fun Student Life activities.
Living On Campus?
Transfer students who plan to live on campus can move in early! With your advanced class standing, you are able to move in without issue, allowing you extra time to get situated before hitting classes. Want to live with another transfer student? When you submit your housing application, make sure you state your willingness to stay in the Transfer Living Community, currently located in Ryle Hall.
Other Things You Need
Before you arrive on campus, be sure to fill out the required items from our Student Health Center. This information will come from the Office of Admissions during the weeks prior to your arrival on campus. Lost a form? No problem! Print a replacement here.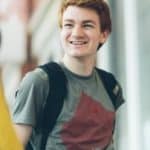 I chose Truman because of the affordability and its academic reputation. I looked at other schools, both public and private, and discovered that Truman is on par academically with so many universities but for a fraction of the cost. I knew that I wanted a stellar education but didn't want to graduate with thousands of dollars in debt, so Truman fit that mold perfectly.