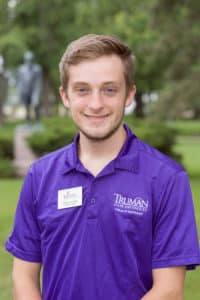 Junior, Class of 2019
Major: Business Administration (Management & Marketing)
Hometown: Quincy, IL
---
Remy, who shares a hometown with Evie, is a first-time orientation leader. Remy loves everything Disney — Disney World is his favorite vacation spot. He credits much of his college self-discovery with joining Beta Theta Pi during his freshman year. Plus he has also been involved with Student Government and Delta Sigma Pi, a professional business fraternity.
Remy Talks 
Why did you choose Truman?
When I was considering which colleges to apply to, I immediately thought of Truman. My older sister had attended Truman a few years before, and I had heard so many positive things. I initially thought that I wanted to go to a larger institution, however, once I came on my own visit and sat in on a class that changed. I loved how in a freshman class, professors knew the names of students and where able to have interactions with students in class. It seemed like a place that was a diverse tight-knit community. After that visit, I was sold.
Favorite aspect about Truman:
One thing that I love is how close and nice everyone is on campus. It was great to see that what I had thought about Truman was right. One time I was in a pinch and needed a ride from the library. After just having one class with this person, and barely knowing them, they were more than happy to give me a quick ride to where I needed to go. It's the people that make this place so special and unique. And it's the people that are my favorite part of Truman.
Piece of advice for new students:
Get outside your comfort zone. I know college can be scary and intimidating, but this is the time to really find yourself and those people that you can call friends for life. Let yourself explore all the different organizations and activities that Truman has to offer. The more you try, the more you'll learn about yourself and others.
Favorite experience of your first year:
One of my favorite experiences at Truman was when I decided to rush a fraternity. I rushed in the spring of my freshman year because I was hesitant about Greek Life. After getting through rush week and I finding a place with people that liked me for me, I realized that I had been missing these people in my life without even knowing it. Rush week truly helped me see who I was and where I was meant to be.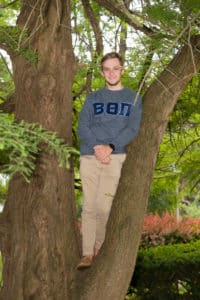 ---