Apply to Truman
Pursue Being a Bulldog!
Now is the time to apply!
Students at Truman come from dozens of countries; from all walks of life. Here you can choose the most appropriate application for your needs. Whether you are finishing high school, or planning to pursue a graduate degree, Truman has a place for you.
Undergraduate Admission
Applying to Truman as a first-time freshman student? Maybe you are looking to transfer to your next college home? Maybe you took some time off for an internship or abroad experience. No matter the reason, the Undergraduate Admission Office is the place for you. Our application is always free and students are admitted on a rolling basis. The application also provides automatic consideration for scholarships. Apply today!
Take some time away at an internship? Maybe you went abroad for a semester. Either way, coming back is easy! Fill out the quick Returning Student Form, contact your faculty adviser, and you'll be back in class in no time.
International Student Admission
The International Student Affairs Office assists all students who plan to attend Truman under an F-1 or J-1 visa. Have a different visa type? You should fill out the appropriate application through Undergraduate Admission.
Graduate Studies
Truman offers eight graduate programs in different areas of study. From accounting to leadership, learn more about how Truman can help you pursue the advanced degree you are looking for.
Pursuing Other Admission
Our Institute for Academic Outreach offers a number of academically stimulating summer programs, and coordinates the summer courses available to students.
Summer Academies
These programs are designed for students of varying ages, from rising 7th graders through high school.
Non-Degree Seeking
Learn more about this application if you are:

a currently enrolled high school student
a visiting college student
completing a continuing education course
have completed a Bachelor's degree and will not seek a second degree from Truman
Looking for More? Check out admission requirements and available scholarships!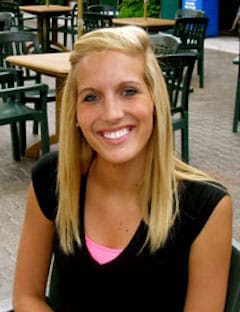 "I found it very relaxing to get away from the hustle and bustle of a big city and get the chance to enjoy all of the aspects of a smaller town. This town is a wonderful place to enhance your college experience."
– Bethany Williams ('13), Communication Major