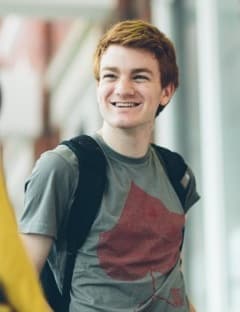 If you talk to any young person in the process of applying to colleges, I think it's safe to say that location is a major priority for them. I know it certainly was for me. I applied to numerous schools, the majority of which were in large cities such as Kansas City and Chicago.
I didn't know a lot about Kirksville when I chose Truman, and as I moved into my dorm room freshman year and started my college experience, I still wasn't sold on this small town.
Two months later, when mid-term break rolled around, I discovered that all my doubts had been alleviated. I knew I had found the place I truly belonged when I found myself not wanting to go home to St. Louis for break. Kirksville, the town I knew so little about, had quickly become my new home, and it has been ever since.
The large sign that greets incoming visitors to Kirksville proclaims the city being one where "people make the difference," and in my few years living in this charming place, I can honestly say I've discovered these words to ring true. Kirksville is indeed a smaller town and offers a very different experience from fast city life, yet it's an experience that involves wonderful people who make up an incredibly welcoming and fun community. You know your neighbors on the street where you live. You see familiar faces walking on the Square downtown, checking out the Farmer's Market on the weekends, or getting a bite to eat at any of the great locally-owned restaurants. Above all, the town embraces and welcomes Truman students and their families with warm smiles.
Ultimately, college for me is about learning as much as I can and trying to reach my full potential, and I've been very lucky to do so in a town that has welcomed me and made me feel truly at home. I hope that you have a similar experience living in Kirksville and discover for yourself why this is such a special place.
John Riti
Saint Louis, Missouri