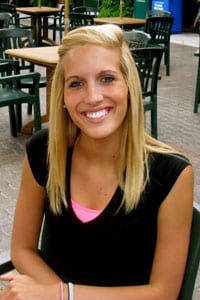 As you arrive by plane, train, or car, anyone can see that Kirksville, Missouri is a charming town that is brimming with many exciting things to explore.
Coming from Saint Louis, I was very apprehensive about moving to what seemed to be a "small farm town in the middle of nowhere." I applied to 15 universities located in large cities like Chicago and Cincinnati. But after I arrived at Truman, Kirksville quickly became my home away from home.
The concept of family and community really make "The 'Ville" unique. There's always some type of community event going on that highlights this safe and friendly town.
Many local restaurants are family operated and welcoming to Truman students. With a variety of options, it is always fun to try out new cuisines or shop at the local farmer's market.
In addition, I found it very relaxing to get away from the hustle and bustle of a big city and get the chance to enjoy all of the aspects of a smaller town. Thousand Hills Park is a place my family and friends have come to love. From hiking to boating, there are many ways to appreciate the beauty of Missouri wildlife.
I hope that you will take the time to treasure the hidden gems that lie within Kirksville. This town is a wonderful place to enhance one's college experience. You can start with a tour of Kirksville with me and Spike, Truman's mascot.
Bethany,
Saint Louis, Missouri