Photos of the Truman Campus
Scroll through our photos to get a peek at our beautiful campus. Filled with tree-lined sidewalks, beautiful landscaping, and a combination of historic and contemporary buildings, our vibrant learning community looks great in all four seasons. Truman's intimate campus provides the perfect setting for smart and curious students seeking smaller classes, interaction between students and faculty, and extensive opportunities to get involved.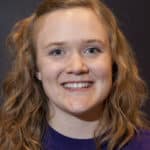 I love how easy it is to get to know people at Truman because of the size. Whenever I go to class or attend an event on campus, I always know at least a handful of people.