The Valuable Return on a Truman Education
Truman graduates are making the grade when it comes to finding jobs and getting into grad school
---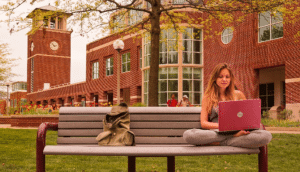 Today, it takes more than a great GPA to achieve success, and students and families are finding that Truman State University's focus on educating the whole person through a well-rounded curriculum of the liberal arts and sciences leads to a high placement rate for our graduates.
A survey of the University's Class of 2013 indicated that, within six months of graduation, 99.7 percent* of the graduates were either employed or pursuing further education in graduate or professional schools. And this kind of success was consistent across all of Truman's academic schools.

The Power of a Well-Rounded Education

One of the reasons Truman's smart and curious graduates are in such high demand is because employers are looking to hire individuals who demonstrate breadth of knowledge; effective skills in communication, analysis, and problem-solving; and the ability to transfer those skills from one setting to another. Employers clearly see the value of a Truman education which combines rigorous academics with multiple opportunities for building connections across a wide range of endeavors such as research, team projects, internships, study abroad, and service learning.
"Cerner, a top recruiter for all of our majors, is working on building that momentum even more because they see how quickly our students learn their jobs," says Polly Matteson, assistant director of Truman's Career Center. "Target is also developing a plan to increase their Truman hires because of our graduates' ability to work effectively with diverse populations, and Frito-Lay likes our graduates because of their strong critical-thinking skills." Other top employers hiring Truman graduates include Boeing, the United States Army, and Pinnacle Technical Resources, just to name a few.
In addition to procuring jobs, Truman graduates are equally successful at gaining acceptance into notable graduate and professional schools across the nation including Harvard, MIT, Purdue University, Washington University in St. Louis, Johns Hopkins University, and Cornell University, among others.
Several graduate and professional programs attend Truman's Career and Grad School Expo where they can count on finding thoughtful, engaged students who are driven to learn, to understand, and to excel. "At our most recent Expo, the St. Louis College of Pharmacy recruiter talked about our exceptionally well-prepared students," says Matteson.
Prepared to Make a Difference
In a global and technologically accelerating world, every field, from agriculture to nursing to theatre, requires a grasp of culture, history, and science along with the ability to adapt and interpret information and interactions. It's likely our graduates will change jobs and even careers several times during their lifetime, but with the well-rounded education they receive at Truman, they are equipped for success in whatever profession, or professions, they pursue.
* Survey results are based on information provided by 75 percent of the Class of 2013 who responded to the survey. Those results showed that more than half were employed and 45 percent were attending graduate or professional schools. 
>>Read more about Truman's Successful Outcomes