Recognition and Rankings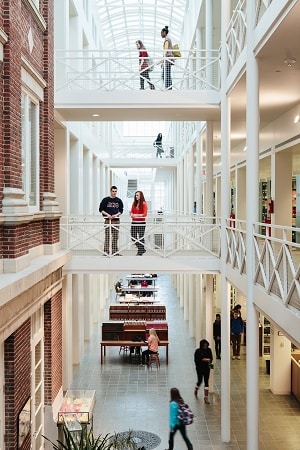 As momentum builds for Truman State University's quest to become the nation's leading public liberal arts and sciences university, indicators of its success are bountiful.
Consistent rankings in many surveys praise the high level of academic excellence found in this lively learning community which attracts curious and smart students. And the message is loud and clear—Truman has earned a reputation for offering an affordable, high-quality education that provides students with breadth of knowledge; effective skills in communication, analysis, and problem solving; and the ability to transfer those skills from one setting to another.
Here's a sampling of what others are saying about Truman State University.
A Top Public University  
"Truman State University in Kirksville, Mo., a newcomer to the top 10 public universities, boasted the lowest tuition for out-of-state students, $12,968." — USA Today, Jan. 28, 2014
Smart Students
Truman is known for attracting high-achieving students so it's no surprise the University showed up as No. 30 on Business Insider's list of "The 104 Smartest Public Colleges in America." According to Business Insider,  "if you want to be surrounded by some of the smartest students in the U.S. and get the most bang for your buck," Truman offers "brain power and affordability." — Business Insider, Oct. 28, 2014
One of the Best Universities in the Midwest
For 18 years in a row, Truman State University has been recognized as the No. 1 Public University in the Midwest Regional category. Truman is also listed at No. 5 in the Midwest Region under "Great Schools at Great Prices." Of the 15 schools listed, Truman was the only public institution. — U.S. News & World Report's "Best Colleges 2014"

One of the Best Values for High-Quality Academics
"It is branded the Harvard of the Midwest. It is such a value. It's really one of the gems of the 150 schools that we put in the Best Value Colleges. Not a lot of people know about it. Great value academically and smoking value financially for in-state as well as out-of state-students." — Rob Franek, author of "The Princeton Review's Best Value Colleges, " NBC Today Show, Jan. 28, 2014. Truman State University was ranked No. 9 on "The Princeton Review's Best Value Colleges."

Truman State University has again been recognized by Kiplinger's Personal Finance as one of the nation's best values in public education. Truman ranked No. 12, on Kiplinger's list of the 100 "Best Values in Public Colleges." Truman is the highest-rated Missouri school on Kiplinger's list and was the only university in the state to be included in the top 50. Truman is also ranked 9th in the nation for the best out-of-state value. — Kiplinger's Personal Finance magazine, February 2014

Truman is one of the "Top Ten Best Value Public Colleges" for universities that offer an excellent education at an affordable cost, due to low tuition rates and/or generous financial aid policies. — www.collegeinquirer.com

Truman is listed as one of 20 best public buys in the "Fiske Guide to Colleges." The guide evaluates public and private colleges by cost and academics. Truman was on their list of 41 schools, 20 public and 21 private, as a best buy. Truman is the only Missouri school included on the Best Buy list. — Fiske Guide to Colleges, 2013

Truman is "a nationally recognized leader in curriculum innovation and one of the best education values in the nation." — Barron's Best Buys in College Education, 11th Edition

The website Parents & Colleges, lists Truman as one of the "Ten Best Value Public Colleges and Universities," for universities that offer an excellent education at an affordable cost, due to low tuition rates and/or generous financial aid policies. — www.parentsand colleges.com
Ranked Among the Top Master's Universities
Truman has moved up to the No. 2 spot in the Best Master's University category of the 2014 Washington Monthly College Rankings. Additionally, Truman was the No. 1 public school on the list and had the lowest net price in the top five. A fixture in the top 10, this marks the third straight year Truman has climbed in the rankings. Truman is the only Missouri school on the entire top 100 Master's Universities list.— Washington Monthly magazine, September/October 2014
Preparing Students to Make a Difference

Truman State University has made its first appearance in the Peace Corps annual rankings of schools producing volunteers for the organization. Truman ranks 25th on their list of medium-sized schools producing Peace Corps Volunteers. Truman has 20 alumni currently serving as Peace Corps Volunteers. Other schools listed in the top 25 include University of Virginia, Georgetown University, Washington University in St. Louis, University of Notre Dame, Brown University and Yale. — Peace Corps Volunteer Rankings
A College of Distinction
Truman is the only Missouri school, and one of only 48 schools nationally, to be recognized as a College of Distinction in the Public Colleges of Distinction 2013-14 eGuidebook. A College of Distinction is: nationally recognized by education professionals as an excellent school; strongly focused on teaching undergraduates; home to a wide variety of innovative learning experiences; an active campus with many opportunities for personal development; and highly valued by graduate schools and employers for its outstanding preparation. For more information, visit collegesofdistinction.com. — Public Colleges of Distinction 2013-14 eGuidebook
Demonstrated Excellence on Accounting Exam
Truman's accounting students ranked in the top 20 in the nation for six of the past eight years for students passing all four parts of the Uniform CPA examination on the first attempt. During this period, Truman graduates ranked in the top 10 four times. — Data from the National Association of State Boards of Accountancy
Talented and Smart Athletes
Truman has the highest NCAA-Student Athlete Academic Success Rate and federal student-athlete graduation rate among all Missouri and conference schools with an impressive 87 percent. — Data provided by NCAA
Truman has produced the highest number of academic All-Americans in Div. II athletics in the history of the program. — ESPN the magazine